Product Name
Gotu Kola Extract Madecassoside
Other Name
Centella Asiatica, Asiatic pennywort, Antanan gede
Latin Name
Centella asiatica (L.)
Appearance
brown power with 40%
White powder with more than 80%
CAS No
34540-22-2
Molecular Formula
C48H78O20
Molecular Weight
975.13
Active ingredient
Madecassoside
Specification
40%-95%
Origin
Guang Xi province,China
Part Used
Gotu Kola leaf
Test Method
HPLC
What is Madecassoside Powder?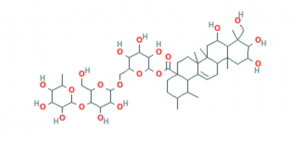 Madecassoside, extracted from Centella Asiatica herb, is a white powder with more than 80 percent specification and light brown powder with 40 percent specification. Madecassoside is the major triterpenes that isolated the first time from Centella Asiatica in 1948. However, in recent years, madecassoside powder became the new favorite ingredient in the Cosmetic industry.
Madecassoside and Skincare
According to many research, madecassoside helps to protect skin and injured skin-repairing in skincare, including wound healing, skin whitening, skin soothing, sunburn treating, scar lighten.
An experiment of madecassoside(10,20,40,80,150 ug/ml) DEME facilitated skin Hypertrophic scar fibroblast(HSFB) reproduction in 2 days. After 48 h, with higher madecassoside content, the Procollagen type I N-terminal propeptide and N-terminal procollagen Ⅲ propeptide was proved to be more measured by radioimmunoassay method. HSFB is one of the main functional cells for wound healing. So madecassoside can promote HSFB proliferation and synthesis of collagen in skin recovery.
With madecassoside having a series of powerful health effects on skin protection, it playing more and more important roles in skincare. Therefore many cosmetics companies start to use it in skincare products like sun cream, masks,  and gel.
Madecassoside and liver protection
Scientists have found that madecassoside can do help to liver function by depressing Cyclooxygenase-2(COX-2), which may be replicated numerous leading to immune liver failure in Hepatitis syndrome. In addition, madecassoside has an anti-inflammation effect in liver injury. This result suggests that madecassoside may be a candidate treatment against liver disease.
Madecassoside Application:
LuckHerb, a professional herb nutrition Supplier, has to produce Centella Asiatica madecassoside powder(COA of 90%) for more than 10 years. Madecassoside is a powder health ingredient with anti-inflammatory, antioxidant, and wound healing effects, and widely applied in skin lightening, skin repairing, and other skincare products.
LuckHerb, as a Gotu kola extract manufacturer and wholesaler, hope to provide more reliable products and get approval from you, if you have any questions or want to buy bulk madecassoside powder, please contact Luckherb.
References:
https://pubchem.ncbi.nlm.nih.gov/compound/Madecassoside
https://en.wikipedia.org/wiki/Centella_asiatica
https://phamix.com/2008/06/09/madecassoside-benefits-in-skin-care/